Recently in Binh Phuoc, the National Agricultural Extension Center cooperated with the Provincial Agricultural Extension Center to organize a training course on water saving techniques associated with the model.
This is an annual activity in the project "Building advanced irrigation models, saving water to improve productivity and economic efficiency for pepper" hosted by the National Agricultural Extension Center.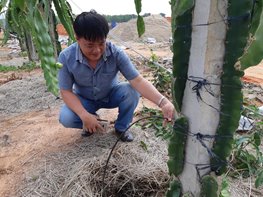 If in 2016, advanced water-saving irrigation models were installed in Hon Quan, Loc Ninh, the target of the 2017 training course in Binh Phuoc was Pepper farmer and long-term industrial crops. Loc Ninh, Dong Xoai and Dong Phu.
At the training course, farmers were introduced by the employees of Khang Thinh Irrigation Joint Stock Company about the model and instructions on how to operate the water-saving irrigation system and the necessary precautions when using the system.
In 2016, the project has built 12 models on an area of ​​24ha for 56 households in the provinces. When installing an advanced irrigation system that saves water according to the model, it will save 20-30% of irrigation water compared to traditional, farmers can apply fertilizer directly to the tree through a water-saving irrigation system. reduce labor costs. Trees provide enough water with enough fertilizer, healthy growth and development, so the yield is stable, the quality of the garden as well as pepper is increased. Each farmer household will be invested and installed automatic irrigation system of Netafim (Israel).
It is known that the above project will be implemented in 3 years 2016-2018 in 4 provinces of Binh Phuoc, DakLak, Gia Lai and Dak Nong in order to build 36 water-saving irrigation models for 72 hectares of drainage for 150 households in the provinces.
Tags: water-saving irrigation, water-saving age, water-saving advanced irrigation, water-saving advanced watering, National Agricultural Extension Center, National hot water center, Center for Agricultural Promotion, Center of hot water