How much does it cost to install a drip irrigation system?
Over nearly 20 years building and transferring automatic irrigation equipment of Israel in Vietnam. The original customers were mainly from large agricultural enterprises such as Vineco, Dalat hasfarm, HAGL … And now, everything changes when Vietnamese agriculture needs to change continuously. Requires farmers to change their irrigation as water decreases in volume due to climate change.
And it is necessary to reduce fertilizer costs with traditional labor. With the current rate of urbanization, the application of an irrigation system to reduce irrigation and fertilizer costs is a very urgent and necessary job.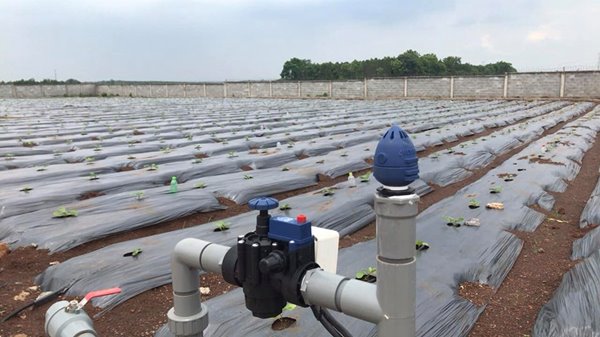 At the beginning of 2019, there were 8 main types of Vietnamese fruits exported to China such as jackfruit, banana, litchi, rambutan, mango, longan, dragon fruit and watermelon. And according to forecasts that the Chinese market in the next 10 years will increase in quality and quantity will be saturated. This is also part of the reason why farmers have to improve the quality of their produce by fertilizing more evenly with the irrigation system.
To the cost of drip and spray irrigation systems:
In order to make an accurate quote, some information is required such as: Power source, water source, planting specifications, land area, do garden owners want automatic watering or not? From there there will be a blueprint of an irrigation pipe and the price will depend on the strength of the drip pipe.
The 0.15 mm rope is used for low cost short-term plants.
Wire 0.39mm is used for long-term plants with durability> 5 years.
1mm wire is used for long-term plants with durability> 10 years.
With 20 years of experience and a team of young enthusiastic engineers, it will be easier for farmers to water and fertilize farmers.
For more details please contact us at 📞028 3844 5850 or visit 🌐website: irritech.vn
Branch system of KHANG THINH TECHNOLOGY JSC
🏡 Head office: 85 Dao Duy Anh, Phu Nhuan District, City. HCM City
Phone: (+84) 028 3844 5850 – Fax: (+84) 028 3847 6877
🏡 East Saigon Branch: A1-672 Quarter 1, Song Hanh Street, P. Phuoc Long B, District 9, City. HCM City.
Phone: (+84) 028 22539851 – Fax: (+84) 028 22536391
🏡 NORTH CENTRAL BRANCH
Address: Gom Street, Dai Thanh urban area, Nghi Kim commune, Vinh city, Nghe An province.
Phone: 0238 3881456/0984 809 009
🏡 LAM DONG BRANCH
Address: Trung Hiep, Hiep An, Duc Trong, Lam Dong
Phone: 0263 3550058 – Fax: 0263 3810252
🏡 SOUTHEAST BRANCH
Address: Lot 410-411-412 Highway 1, Hamlet Nui Tung, X.Suoi Tre, Long Khanh Town. Dongnai province.
Phone: 0902 965522
🏡 SOUTH CENTRAL BRANCH
Address: 394 Thu Khoa Huan – City. Phan Thiet, Binh Thuan
Phone: 0252 3812848/0941486486
🏡 HANOI REPRESENTATIVE OFFICE
Showroom 1: Km 2 – Pham Van Dong Street, Co Nhue 1 Ward, Bac Tu Liem District, City. Hanoi
Phone: 0904 902 000
Showroom 2: 44 Alley 164 Vuong Thua Vu Street, Ward Khuong Trung,
Thanh Xuan District, Hanoi
Phone: 0913 007 351
🏡 Northern Distributor: Room 0902, Building B, N04, Hoang Dao Thuy Street, Cau Giay District, Hanoi City
Phone: 0901 595 678
🏡 GIA LAI REPRESENTATIVE OFFICE
Address: 982 Hung Vuong, Chu Se town, Gia Lai
Phone: 0269 3886679
Hotline: 094 88 94 369
Email: kt.gialai@irritech.vn
🏡 DAKLOG REPRESENTATIVE OFFICE
Address: No. 8 Phan Trong Tue, Buon Me Thuot, Dak Lak
Phone: 0262 3598899/098 5442544
🏡 KHANH HOA REPRESENTATIVE OFFICE
Address: 43 Truong Chinh, Cam Duc Center, Cam Lam District, Khanh Hoa Province
Phone: 0258 385 9425/0973 836 231
🏡 BA RA VUNG TAU REPRESENTATIVE OFFICE
Address: QL56, Hoan Long, Kim Long, H Chau Duc, Ba Ria Vung Tau
Phone: 0254 3978468/0914 230 468
And more than 70 companies, shops to act as distribution agents nationwide.