FEATURES AND BENEFITS
Wireless signals – RadioNet with optimizations in closed networks is accepted into the system through virtual inputs to connect to all environments.

Netafim's

RadioNet is extensible – with 4 slots, RadioNet offers most of the unlimited control possibilities and easily demonstrates extensive configuration with modules and powerful performance. li>
Test mode – RadioNet ensures long-term operation with a feature of memorizing and mapping network interruptions from initial installations.
Coverage – each control can function as a "store and next" data repeater to improve geographic coverage.
Aggregation – RadioNet is versatile and easy to connect over a wide range.
Energy Efficiency – The RadioNet irrigation controller is designed for low energy, RadioNet runs the economical function for most of the operation time, each of which can be recharged once with rechargeable batteries or solar cells .
Secure Information Protocol – with so many layers of code and time to assign access, RadioNet provides a high level of security.
High reliability under all kinds of conditions – RadioNet equipment is resistant to temperatures in the range from 250C to 850C.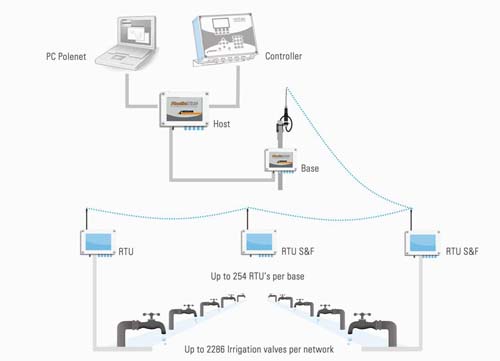 SPECIFICATION
Frequency from 402 to 474Mhz, range 12.5KHz.
1400m Watt capacity.

Hardware

: Up to 254 network RTUs with 2286 output ports and 2540 input ports.
6 VDC input, 1216 VDC output.