BENEFITS AND FEATURES
Higher and better yields
The D-Net™ 8550 provides outstanding water distribution uniformity, due to the unique 3-D arm enabling, the highest
uniformity in the market, respective to its flow rate and installation spacing.
The D-Net™ 8550 provides maximum water-use efficiency.
Saves labor costs and multiple expenses on maintenance
High robustness:The D-Net™ 8550 has special design that makes the sprinkler more resistant and ensures high performance for a long
product life.
Extended product life: The D-Net™ 8550 is made of UV-protected materials, making it durable under all climate conditions and with any applied
nutrients.
Flexible installation: Can be installed on solid sets or on removable field stands.
Easy to maintain: A special nozzle key is designed to allow simple cleaning of the nozzle
SPECIFICATIONS
7 different nominal flow rates: 510, 580, 680, 810, 940, 1135, 1275 l/h.
Nominal flow rates at 2.5 bar pressure.
Recommended working pressure: 2.0 to 3.0 bar (at the sprinkler head).
Wherever sand exceeding 2 ppm exists in the water, a Hydrocyclone is to be installed to protect the system.
When sand/ silt/ clay solids exceed 100 ppm, pretreatment will be applied according to Netafim™ expert team's instructions.
Water trajectory: 24 degrees
Inlet connection: 1/2" male threaded.
Color coded nozzles for easy identification.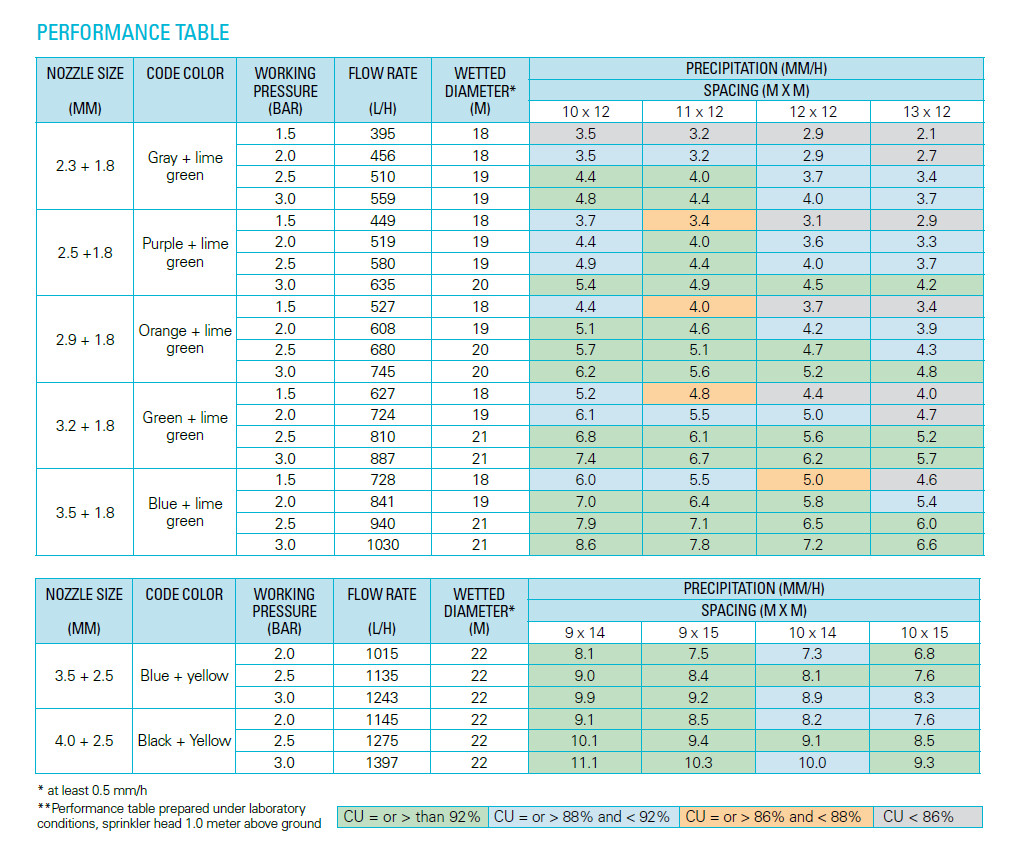 CATALOG: d-net-8550_p
VIDEO: https://irritech.vn/thu-vien/voi-tuoi-phun-mua-d-net/