On 6-7 / 6/2017, Khang Thinh Company attended the Forum "Solutions for the development of sustainable pepper". The association thinks that the National Agricultural Extension Center has coordinated with Dak Nong Department of Agriculture and Rural Development. Attending the conference were businesses, agricultural stories and more than 200 farmers from 7 provinces with large pepper areas of the country.
Pepper is still one of the crops that provide a great source of income for the people of the Central Highlands and the country. Pepper is a commodity that has been exported to 109 different countries. Specifically, in 2016, our country exported over 177,000 tons of pepper, reaching a turnover of US $ 1.42 billion and accounting for 50% of the world's consumption market share. The high price of pepper in recent years has caused people to rush to expand their cultivated areas. With 51,300ha of pepper in 2010, in 2014, the area increased to 85,591ha, by 2016, the area soared to 124,529ha, exceeding the plan by 249%.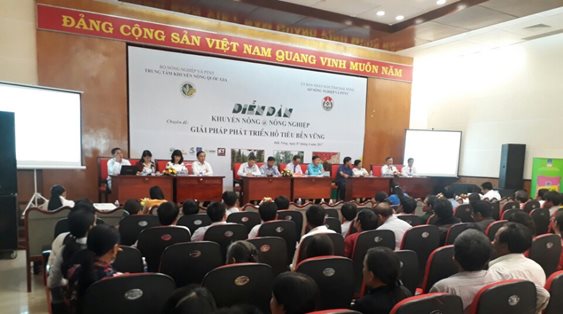 Also according to the statistics reported by the Department of Crop Production, the pepper area of ​​the Central Highlands and Southeast provinces is more than 120,000 hectares, accounting for 96% of the total pepper area of ​​the country and mainly concentrated in 7 provinces, including DakLak (27,500ha), DakNong (27,600ha), Gia Lai (16,400ha), Lam Dong (1,600ha), Dong Nai (8,000ha), Binh Phuoc (5,000ha) and Ba Ria – Vung Tau (13,000ha).
Although the area increased rapidly, the production process was not heterogeneous, resulting in uneven and unstable product quality; Good Agricultural Practice (GAP)-oriented production is limited. Accordingly, the erratic weather has significantly affected the productivity and output of Pepper. Diseases and droughts have still occurred, yet effective preventive measures have not been applied, causing considerable damage.
According to Vice Chairman of Dak Nong Provincial People's Committee – Mr. Truong Thanh Tung said, the area of ​​pepper in the area has doubled compared to the plan until 2020. The hot pepper growth is leading to many consequences and consequences. that farmers are the first to suffer.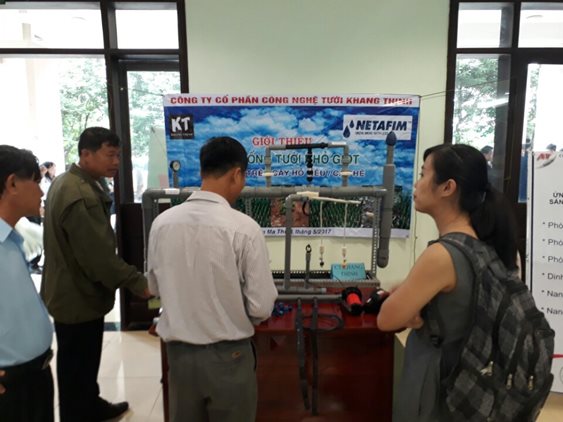 Also according to the incomplete statistics of Dak Nong Agriculture Agency, from the beginning of 2017 up to now, the whole province has nearly 1,800 hectares of pepper infected with nematodes, 1,200 hectares of infected pepper die quickly. Pepper prices are "plummeting" at a dizzying rate and are currently being purchased at VND75,000 / kg, 40% over the same period last year.
Mr. Tung also added that many newly planted households that have not yet harvested are very vulnerable to bankruptcy, debt due to the investment cost per hectare of pepper from 350 to 500 million VND, the highest among long-term industrial crops Then post-harvest processing is extremely limited …
In addition to the boom in acreage and the sharp drop in pepper prices, the output quality is also a concern. Specifically, the issue of pesticide residues.
Ms. Nguyen Mai Oanh, Vietnam Pepper Association, said that enterprises need to coordinate closely with the agricultural sector, agricultural extension agencies from central to local levels, cooperatives and farmer groups to provide. knowledge and training in clean pepper production process. All parties participate in controlling the pepper production process, having clear and transparent information from the source of soil, water, seeds, fertilizers, pesticides … used on that basis to issue the planting area code. Products from high quality growing areas will be offered for sale by businesses in markets requiring high quality requirements.
In the forum content, experts from the Tay Nguyen Agriculture and Forestry Science Institute, Plant Protection Institute, National Agricultural Extension Center … announced some results from the research process, experiment on pepper nematode and mealybug control, solutions to minimize the impact of drought on pepper plants under climate change; techniques of using bio-products to prevent rapid death diseases; Research results on the fertilizer application process … Also in this forum, the cooperatives and veteran pepper farmers in pepper cultivation also share many valuable experiences in cultivation, treatment and prevention. Disease.
HUONG THAO – AGRICULTURAL GROUP KHANG THINH